Global Voice Chat system instructions.
---
With this system you can talk to other people who are interested in Kate Bush on the internet.
1. Download this program and install it on your PC:
2. Start the program when you are connected to the internet.
3. Fill in the parameters as this picture shows.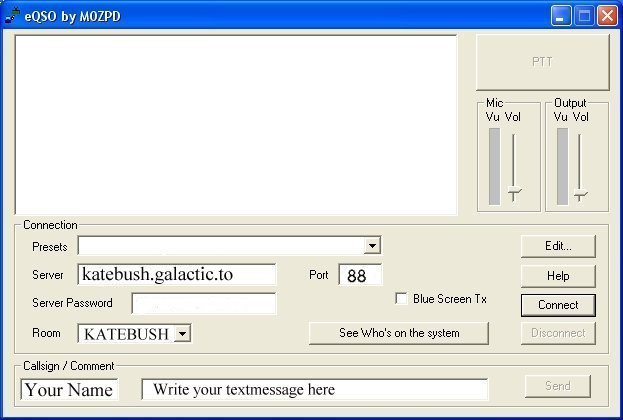 First set the server port number. Then set the call sign. Here you write your name or nickname. Write KATEBUSH in the room field. Then press Connect. Press PTT or spacebar to talk and release it to listen. The name of the person who is talking into the system becomes blue. Only one person can talk at the time. You can write text messages in the text field and press Send to send it to other users. You can temporary create another chat room by typing the name of it into the room field. This room will disappear when its empty. If you press the button See Who's on the system you can connect to other servers for this system on the internet. This will change the parameters so you must type them in again if you want to return to this system.
To set up your soundcard correctly follow this instructions:
The spaceradio consept where you can talk to spacepeople are at http://www.spaceradio.cc
For other questions go to http://katebush.galactic.to/mail.html and write a message.
Updated 3 February 2006