English/Norwegian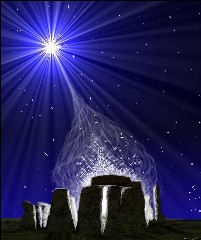 "As a vibrant wave of Light, the Seven Sisters may appear as a guiding link to higher wisdom.
As they shine down to you with brightness, comfort your eyes, ease your minds
and release your knowledge - you will again remember who you are."
The terms "star people", "starborn" and "starseed" were popularized in books by the popular author Brad Steiger. He has borrowed the term "star people" from native Americans who belive that the stars are the homes of spiritual beings who have a connection with people on Earth. He defines the term "starborn" as "the feeling and knowingness by some people that they have come to Earth from another planet or star system".

Some "star people" represent the Ashtar Command or other ET groups and civilisations. Everyone is a visitor, living on Earth to perform a mission. As we are approaching the end of the Piscean age, the space commands are increasing their communications and interactions with their incarnated representatives. It has been said that there are at present about 144 000 Lightworkers from the Ashtar Command on Earth. That is the minimum of souls required for the ascension process. They are called "Eagles" within the command. These Eagles are a group of souls who don`t identify with a special planet.

Remember . . .


- Aeliah





Lightwork is a spiritual life-style, an integration of rational mind and intuition in a supportive way. It can be considered as a modern mystic-school based on the roots of ancient teachings without the dogmatic limitations. Many people on the spiritual path call themselves lightworkers. Part of Lightwork, includes the deep interest in consciousness, other dimensions (ascension), and views about starseeds, walk-ins, extraterrestrials and multi-dimensional-self.


"TIL VÅRE EGNE KOMMER VI TILBAKE FOR Å FORBEREDE EN PLATTFORM FOR LYSETS UTBREDELSE"


Ikke bare blir jorden overvåket av romskip bemannet med mannskap fra andre planeter/dimensjoner, men deres representanter lever iblant oss. Dette er lysarbeidere fra høyere utvilklede sivilisasjoner, som er født i jordiske legemer. De er her for å hjelpe oss og har kommet med spesielle oppgaver i en spesiell tid. Det er angitt et tall på rundt 144000 lysarbeidere fra Ashtar Kommandoen spredt rundt omkring på jorden for å bistå i overgangen til den 5. dimensjon. Mange av disse har imidlertid glemt sin opprinnelse, og dermed også hvorfor de er her. I disse tider foregår derfor en oppvåknings- og bevisstgjøringsprosess.
Nettverksarbeid - kommunikasjon - er av vital betydning for lysarbeidere, hvis formål er å etablere bånd til andre med felles hensikter og gjøremål. Mange bor eller lever kanskje forholdsvis isolert med sin søken, sine tanker og interesser, og det er av positiv betydning å kunne dele - utveksle kunnskap og erfaringer. Dette gir bredere utsyn; en større oppmerksomhet overfor hva som forgår rundt en og rundt andre. Alle har egne evner, kunnskaper og ekspertområder. Du har selv valgt å gi av disse som dine opgaver er knyttet til.
"Din misjon på Jorden på dette tidspunkt er å bli hva du virkelig er. Når du erindrer hvem du er, vil du vekke i andre minne om hvem de er - -
Du er Starseed. Du er Starseed. Du er Starseed. Dette betyr at kodet i dit vesen er den magiske kraft og velde til himmelens stjerner. Leser du dette er det fordi du er et lysvesen som har kommet til jorden på dette tidspunkt for å være i en fysisk form for å assistere menneskeheten gjennom den tid for fødsel som hurtig nærmer seg - da Jorden vil stige i vibrasjon og løftes inn i en ny harmoni - -"
Fra 'Stjernefolket blandt oss' av Knut Aasheim