picture above: a more recent picture of Rampa in his "english barrowed" body - the TIBETAN boy symbolizes Lobsangs childhood in Tibet - but the picture is not actually Lobsang, from his own childhood.

He - Lobsang Rampa - had a long time ago - in many earlier incarnations - been prepared for this task. The preparations continued in the young life of Lobsang in Tibet, which many of his books describe in detail. Lobsang's task was to bring some of the wisdom, known by the few initiated in Tibet, to the west of the world. Rampa experienced a very difficult trip to USA and England - but was forced out of England - and therefore, the initiated lamas of Tibet summarily prepared for another possibility. That was arranging a body-exhange or "transmigration". A man in England wanted to come out of his difficult life - and so the lamas made it possible for him to come over to the astral world allowing Lobsang to take over the former inhabitant's physical body. That part of the story is described in many of his books - and especially THE RAMPA STORY and in AS IT WAS

(The Rampa Story in Word for download)

picture below: Rampa came as a young monk to the cave of an old blind, hermit who had been chosen of "the watchers" to bring further some very special cosmic information. They had selected him because they had scanned his mind - and found he had an extreme developed memory. This happened nearly a century ago - and later he was visited by the young Lobsang - whose task it was to bring the information out to the world - as it was done in the book THE HERMIT - (also in danish here) - may be the most interesting of them all?

.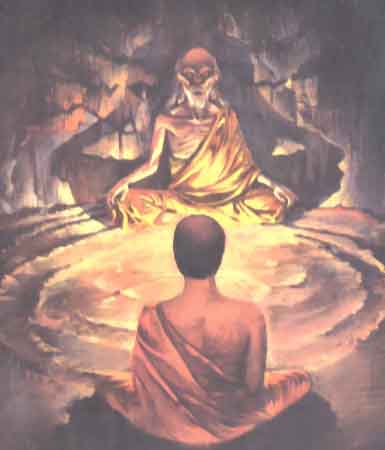 cosmic principles for spiritual evolution in pictureform
history of Tibet - but here no esoteric viewes
from a ufocontact in the80s with some information very similar to Rampa's
from "convoluted universe"-book out of hypnosis - traces of inner Earth civ.
The book SURFING the HIMALAYAs of Frederick Lenz; meeting a tibetan master | audio mp3 | pdf
book on space-contact to a humanlooking space-lady in Peru in -73, where she told him to read the books of LOBSANG RAMPA.:
DATE WITH THE GODS, Charles Silva, 1977.